We all know the name of this company, a permanent and constant presence in every city of Italy but few know who exactly Poste Italiane is. Established in 1862, Poste Italiane was born as an autonomous company which was entrusted with the monopoly of telegraphic and postal services of the Italian state.
After the Second World War, financial operations in the country were increased which led to a detachment between the Italian and foreign postal services. This situation saw the transformation of Poste Italiane from an independent company to a public body with its complete conversion to Spa in 1994.
The company was listed on the Italian stock exchange in Piazza Affari for the first time only in 2015. With its cutting-edge services and financial offerings, the company has started to change its appearance, becoming more and more like a credit institution and attracting the attention of numerous investors.
Would you also like to become part of this circle and invest your savings in Poste Italiane shares? Well, you just have to continue reading our article.
Italian post office shares today
Poste Italiane is today a group active in the logistics, financial services, insurance and mobile telephony sectors. The company, 60% controlled by the Italian Ministry of Economy and Finance, has a turnover of over 35 billion euros and a profit of around 700 million euros.
Today it can boast over 130.000 employees in Italy and we can say with certainty that it is one of the most important stocks in the entire financial market. Poste Italiane also controls a large number of small companies such as: SDA Express Courier, Mistral Air and Banco Posta Fondi management companies.
It is therefore a very large corporate group that continues to expand year after year. It should therefore be emphasized that anyone who decides to invest in this company will not only invest in a delivery service but, in a real financial intermediary that confirms itself at the top (at European level) in the sector in which it operates.
Where Italian Post shares appear
Once you have reached this point, you are therefore wondering "where can I buy Poste Italiane shares?" do not worry, buying shares is extremely simple, you just need to contact a trusted bank advisor or one of the many online trading brokers; Let's see in detail the pros and cons of these two options. Many investors think that deciding to turn to a banking institution for the purchase of shares is the safest way to enter this world.
This is certainly the most traditional method that can hide some negative sides for example, you will face longer timelines, more expensive commissions and management costs and above all, sometimes you may come across financial advisors who will show you excellent share packages but will be too busy. to help you dispel any doubts or answer any questions you may have about your investment.
Online trading brokers are still a mystery to many investors today. These are platforms with intermediary functions between users and companies that offer the possibility to independently manage their investments.
Anyone who decides to contact an online broker will be able to monitor the progress of their shares from the comfort of home with lower trading costs than those required by a banking institution and extremely short times. The best platform on the web that we feel we can recommend at the moment is eToro.
Who is eToro
eToro is a world leading company in the sector that was born in Israel in 2007. Over the years it has quickly established itself becoming the best online trading platform on the web. Its clear and intuitive interface, its constantly updated graphics and its innovative policy fully satisfy its 10 million users. eToro, regulated by the FCA and CySec, offers all investors the opportunity to trade online safely and comfortably from their PC.
The advantages of using eToro
But why should you use eToro to invest in Poste Italiane shares rather than another broker available on the web?
The answer is very simple, this platform offers numerous advantages that will make your experience complete and help you orient yourself in the complex world of the financial market. Let's find out together:
Extremely safe and equipped with world-renowned security protocols.
Economica, because it allows you to start your experience by depositing a minimum amount of only € 200 with lower commissions than those offered by other competitors. In addition, the site offers you the possibility to keep your position on the stock market open beyond business hours or on the scheduled closing days.
It offers a section dedicated to Social Trading which sets it apart from other brokers in the industry. eToro allows you to interact with the most experienced traders to help you identify the most suitable financial strategy for you and to obtain numerous tips to improve your investments.
Offers the function of Copy trading suitable for those who still do not know how to move in the sector. With this feature you will be able to imitate and reproduce the financial strategies and investments made by the most skilled traders in the industry.
For all novice users there is the possibility to use the mode demo which allows the user to practice the software and increase his knowledge of online trading before starting to invest his real capital.
Purchase Italian Post shares on eToro
Finally the time has come to explain step by step how you can start your adventure on the eToro online trading platform:
Create your account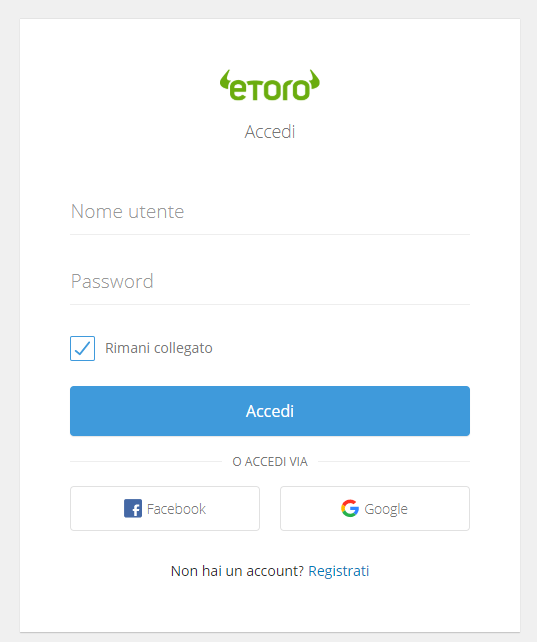 The first thing to do is to register on the portal, then access the home page, click on the word "subscribe now" and fill in the registration form provided by entering all your personal data. Subsequently, for security reasons you will have to confirm your identity within 30 days from the moment of registration on the site, by sending a valid identity document.
Deposit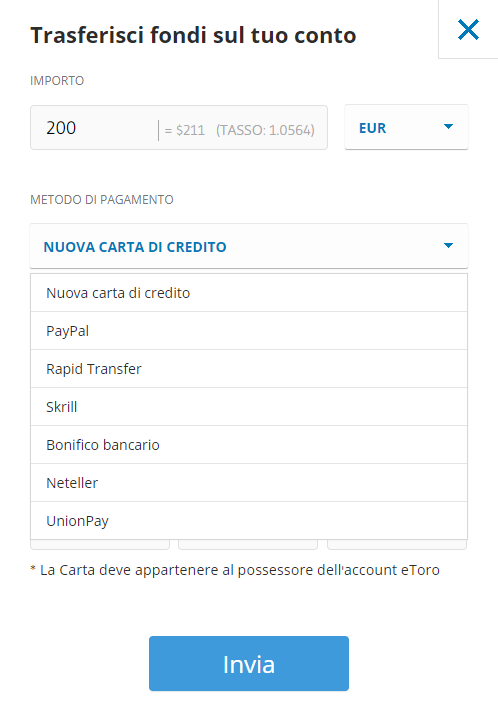 To start trading online on the platform you will have to pay the capital you want to invest into your account. You can select the payment method you prefer, the portal accepts all major credit and debit cards, bank transfers and electronic wallets. The minimum amount required, as previously specified, is 200 euros.
Demo mode
Users who are still inexperienced in the sector will benefit from this mode to begin understanding how to move and how to manage their account. Definitely the best option for beginners who will not risk affecting their capital.
Live mode
The real world of the financial market, more experienced users will be able to access this mode with a simple click from their personal area and start investing in Poste Italiane shares.
How to view Poste Italiane stock chart and invest on eToro
Once all the steps previously explained have been completed, you can start investing in Poste Italiane shares on eToro. Among other things, all you have to do is access the platform, enter the name of the company you prefer in the search bar and you will access its dashboard.
On this page you will find a section dedicated to stock charts constantly updated in real time. Another section reserved for the financial statistics of the company in question and finally you can obviously buy or sell your Contracts for Difference.
Always remember to set your leverage, set your stop loss that will help you limit your financial losses. Also, choose your take profit or the order sent to the market when you reach the set threshold to close in positive.
Poste Italiane share price and Poste Italiane share price
In order to be able to make predictions on the Poste Italiane share stock, it is necessary to analyze all the services it offers and its performance in the stock market. Poste Italiane has an excellent postal service that has been completely revolutionized thanks to the use of the internet and which allows it to offer an excellent service even in the shipping sector.
Its financial service is certainly one of the strengths of the company and today the number of customers who benefit from it continues to grow. While the branch of the insurance sector is still new but, the expected revenues will probably be directly proportional to the performance of the state economy and the increase in savings.
Another fundamental aspect to take into consideration and which must never be forgotten by those who decide to invest in Poste Italiane shares is that despite the guarantee of the Italian State which the company enjoys, the performance of its shares in the Piazza Affari is definitely connected. to developments affecting the Italian state and therefore to its socio-economic conditions.
Its stock has therefore been the protagonist of continuous ups and downs and has a low valuation that estimates a price / earnings ratio of around 9%. The Italian Poste Stock Dividends are particularly high and are close to 80% of profits. In 2019 the yield stood at 5% while today it is already at 6.12%. The value of the shares of Poste Italiane is around 11 euros each, a much higher value than the 7 euros in 2018.
Buy Italian Post shares reviews
It is undoubtedly one of the most important groups in the financial and logistics sector worldwide. A company with such high earnings can be an excellent investment to include in your equity portfolio.
Analyzing its trend and its history we can therefore say that investing in the Italian Post Office is worthwhile. Not only for the solidity of the group but also for the value of its shares and their dividends. Significant growth opportunities are expected in the coming years which will keep the value of the positive trend of its shares stable. We advise you to always move with caution obviously but to aim for a medium-term equity investment.
Conclusions
The stock of Poste Italiane has seen constant and continuous growth despite the socio-economic difficulties of the country.
The company has managed to expand and grow by branching out its interests in numerous logistics, financial and insurance services. Leader in the world sector and with a constantly positive equity trend, investing in the Italian post office is certainly a good idea.
If you also want to invest your capital in this company, you can do it without too many worries and with the support of the main free online trading platforms such as eToro. By contacting the latter, you will be able to orient yourself in this difficult world in a simple way and you can increase your earnings.